Post by Tye Williams on Aug 10, 2006 23:53:19 GMT -5
It's that time once again, ladies and gentlemen! I'm Tye Williams, bringing you yet another exciting episode of Explosion Nightly. Unfortunately, no games were played today, as the Prospects v. Falcons will likely be aired tomorrow. However, even bigger news broke today. The two new expansion teams were unveiled today, and here they are, folks:
Springfield Wolves
GM: Kris Johnson
West Division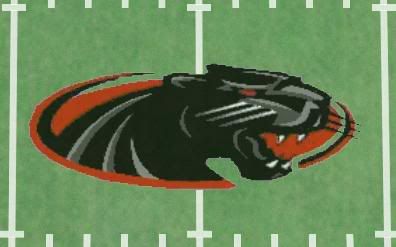 Louisiana Panthers
GM: Shawn Dangerfield
East Division
Explosion Nightly congragulates the new GMs on their selection, and wishes them the best of luck.
In other news, free agency has been delayed until after the expansion draft. Contracts can not be signed by any player until the expansion draft has been completed and the waiting period has passed. Much confusion was created, such as in the contract offers for LeRoy Jenkins and... TRAV MAN?! This will delay Torry Holt and other free agents from finding their new homes in the FSL.
Speaking of free agency, here are several players to hit the market recently:
Torry Holt, WR
Zach Csonka, ILB
Trav Man, ILB
Doctor Doc, CB
Confusion currently exists over the availability of CB LeRoy Jenkins, so he is currently not listed as a free agent. More news from the free agency front will follow as it comes in.
We have some breaking news from the field! Let's get right to it:
Jeff Krever, known by many as CFLStyle, has announced his retirement from commissioner of the SHL. He has also stepped down as Toronto Stars GM, and will also retire from the league. Here is his official statement from the press conference in which this stunning news was delivered:
Krever: "I am officially announcing my retirement as commissioner of the SHL, general manager of the Toronto Stars as well as defenseman of the Toronto Stars. The two seasons I've spent here have been great, I've had a lot of fun with the league and I've made a lot of new friends as well.
This league was made for myself to have fun along with everyone else in the league, and it isn't fun for me anymore. It's annoying. I feel that I am not wanted anymore by most members as a commissioner, or as someone with any authority whatsoever. I'll have you know that this was my first time ever building a sim league, and it's most likely inexperience that has brought me down.
I will remain in the SHL as I wll create a new prospect, most likely a forward. I would like to thank all of the members who have made this league possible, all of the general managers, all of the commissioners. I'd like to specifically thank Ty Summers and is also a good friend of mine, he's done a lot for the league. BurstnBloom, although the last couple of days have been bad, I still think you're a great person. Fernando of course, your league was the first sim league I was ever in, and I've known you since then. Matt Fahlman, you've become a good friend of mine as well and although others don't see it, I know what you've done for the league. I can recognize that. Gboyce, never quite got to know you very well but you we all know is a pioneer of this league, especially with the new board, you built it! Anyone else I didn't mention, I apologize, but I'd like to thank you all.
In my spot, taking over as commissioner, will be Ty Summers. He is more dedicated than anyone else in this league even myself. He will make a great commissioner, and he doesn't have inexperience as a down fall either.
Once again thank you to everyone. I will be around for the next couple of hours to answer any questions, and I will still help sim games for the rest of the season."
I know many of you are thinking, "Why does this affect us?" Well, many people here are also affiliated with the SHL. Also, Ty Summers will be unable to sim the Prospects v. Falcons game, as he now has the immense task of leading the SHL to further prosperity. Best of luck, Ty.
Ra'Shaun Salaam held a grand celebration at his massive house, and Tye Williams was on hand to capture some of the fun moments for those of you who could not attend.
Yours truly sure knows how to make some crazy hand gestures!
Does this count as a DUI?
Jericho Silas bustin' some guh-roovy moves!
Camell Clayton showing the field isn't the only place he can do a wicked spin move.
Trav Man, despite becoming a free agent, was still on hand to entertain... and mow the lawn.
Camell Clayton has begun working out for Season 3 already, and... nice recovery speed!
And, ladies and gentlemen, that's another day in the books for your Football Simulation League. Don't be sad, tomorrow is a new day, and a new day brings a new Explosion Nightly! And just to make you extra happy: Kris Johnson will be making his much-wanted appearance here soon! This has been Tye Williams for Explosion Nightly. Goodnight.